CoolLifting Treatment $170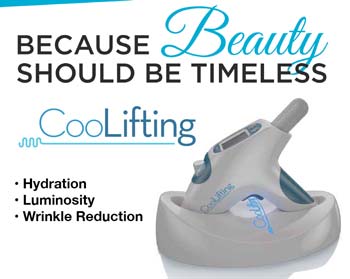 This one is a game-changer!
Unlock your skin's potential for radiance and luminosity in just 4 minutes with the newest facial technology from Europe. CooLifting is a new facial that combines a controlled spay of carbon dioxide and a blend of hyaluronic acid and botanicals to generate beautiful results with no downtime, no injections, and no pain.
How it works?
CooLifting works by using a carboxy spray to deliver a hydrating serum to problem areas of the skin. CooLifting can be done in just a few minutes and there is no downtime after your session. There is no pain with CooLifting and you can resume your normal skin regimen the next day.
Did You Know?
It has been observed that when skin is exposed to high concentrations of carbon dioxide, the body responds by releasing more oxygen to the area creating a "lifting and plumping" appearance.
CooLifting is a "Dermal Delivery System" (DDS) – a technology that improves the application of active ingredients on the skin.
CooLifting's unique hyaluronic acid serum also contains Sorghum Bicolor Stalk Juice and Wheat Protein which helps improve the overall appearance.
Why Carbon Spray?
Simply put, cryotherapy is treating the skin with extreme cold. 100 years ago, practitioners employed a block of dry ice carbon dioxide to treat problem areas of the skin. Today, carbon dioxide is sprayed onto the skin in combination with hydrating serums to restore hydration, luminosity, and create a more youthful look to your skin.
Treatment Length
CooLifting is a four-minute treatment in which a proprietary serum is dispensed on areas typically plagued by fine lines and wrinkles. Expect to feel the most tightening 12-24 hours after a treatment, as well as noticing an overall healthier look and feel to your skin. CooLifting is the ideal facial effective, fast-acting, and risk-free.
To book this treatment, please contact Nice Skin Beverly Hills at 310-625-6925 or info@niceskinbeverlyhills.com.
Luminous and radiant skin.
Hydration and oxygenation enhanced for youthful and healthy looking skin.
Tissue stimulation for skin evening and fine line lifting.
Calming of skin after microneedling, microdermabrasion, laser surgery and other procedures.